TOPICS EXHIBITED
AN ECLECTIC AND INTERACTIVE PROGRAMMATION
"The first mistake of Art is to assume that it's serious"
- Lester Bangs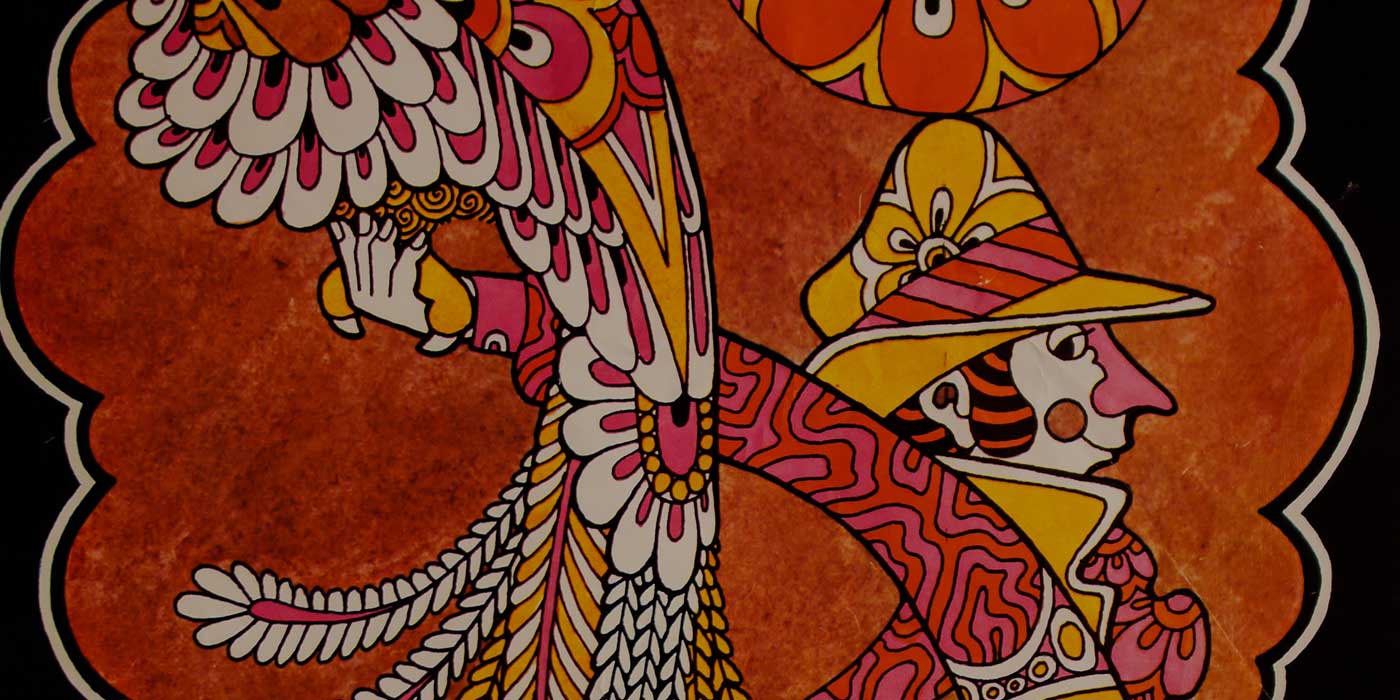 ILLUSTRATIONS & COMICS
A number of painters and skechers can find a way to liberate their creativity and reveal their imagination from childhood.

Artworks : Comic-strips | Tales | Cartoons | Posters | Etchings | Illustrations.
YOUTH
Young people from 3 to 16, are attracted by colors and the curiosity to know one's self and the world around. Psychedelic Art and its willingness to awake consciousness can perfectly match with their merriest desires. There will be other games in different rooms for younger children.

Instalations: There is a pathmark for children in this room. Artworks are at 120 cm high. Some reproductions on plywood enables to pip in and have your picture taken.
BELIEVES AND SPIRITUALITY
Most of pagan shamanic cults have always transmited cosmic unity ever present in Nature, and have a parallel with their artistic creations. There are mandalas in most of rites and religions, just like the bird, the serpent, or dragons.

Piece works: Tapestries | Symbolism | Visionnary Arts | Tarots | Posters | Contemporary Arts

Meditation environnement :
Shamanic yurt with different rites across the world, an audiovisual experience at 180°.
Installation oif Brian Eno "Quiet Club".
Singing bowls at disposal
HISTORY OF CIVILIZATIONS
This section presents works linked to society, civilizations in the five continents, the apparition of mankind's first wokrs -15,000 B.C, till the XVIIIth century.
We can find engravings against the odds of myths , legends, fables, tales that can belong to oral tradition, or popular like Charles Perrault's or else the One Thousand One Night.

Works : Folk Art | Primitive Art | Xth century Ornamentations | Greco-roman mosaïcs | Ancestral Ornaments | Middle Age paintings | Traditional outfits | Coloured Embroideries …
FANTASTIC, SURREALISM AND ART BRUT
History of art is made of altered states of mind. It aims to hurt the visitors in order to transform their vision. At the beggining of the XIXth century Fantastic in litterature gave birth to a graphic spring, pretending to aim, dream and fantasy, like in works by William Blake as an author and painter. By 1870 pictural Art lost its previleging function of reality reproduction with the rise of photography. Painters question themselves. They have an intellectual approach and create avant-garde movements and ignore painting norms. These are the first steps of a subjective representation for reality.

Works : Impressionnism | fauvism | expressionnism | symbolism | art nouveau | cubism | futurism | surrealism | art brut | art-déco Installation: Room with kaleidoscopes including a giant one.
LITERATURE, POETRY AND HAPPENINGS
The Fantastic literary movement in the XIXth century is caracterized by supranatural in a realistic frame. It influenced doomed writers like Rimbaud who recommended "the unlocking of senses", as a first step to be a real man of vision. Surrealists and Counter Culture activists developped this way of thinking. XXth century progressists embodied critics of society and applications scientific progress being harmful for humanity. Beat Generation writers and peots POETS were the precursors of psychedelic values.
Happenings are a spontaneous performance requiring the participation of the audience made popular by Lebel, Kusama, « guerilla theatre » of The Diggers and Fluxus mouvement from 1965 onwards.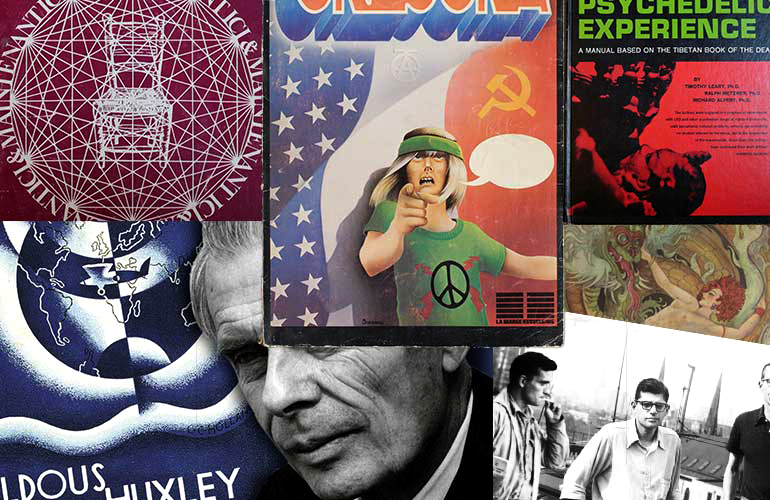 Authors: Kerouac | Ginsberg | Leary | Kaprow | Robbins | Orwell | Dostoïevski | Baudelaire | Apollinaire | Jarry | Freud | Huxley
Installations: Dream machines by Brion Gysin | Lucia Flicker machines
"Without deviation from the norm, progress is not possible."
- Frank Zappa
MUSIC
There is psychedelic sensitivity whatever the style either minimal, repetitive or mastering ; traditional music, Rock n' Roll, songs, Soul, Hip-hop and Electro. The results is quite often avant-gardist. All clusterings of influence are permitted. Heterogenous instruments are well-appresciated especially when coming from other cultures or advanced techologies.
New recording techniques enable an unprecedented quality. The tracks time length is no longer a restrictive criteria with 33 rpm vinyl records.
Some concerts became synesthesic experiences with « liquid light shows », a kind of multimédia tapestry where each representation is unique.


Works: Film posters | Concerts | Video Installations | Vinyl records
CINEMA & VIDEOS
About cinema psychedelia suggests a formal and perceptive alteration. The « Nouvelle vague » influence about psychedelia and the accessible to make enable visual expériences


Films : Fictions | Documentaries | Cartoons | experimental movies.
Installations : Mapping on dome. Chill-out with 3 screens and sound effects..
OPTICAL ILLUSIONS & FLUO ROOM
All Is One : participative installation with uprising reality thanks to psychedelic video filters showing visual effects of psychedelic substances numeric pads.


Artworks : Vasarely | Biasi | Schöffer | Soto | Blacklight posters
Instalations : Body painting | Kinetic Art games by Julio Le Parc | Kinetic Mapping « trompe l'œil » in 3D volumes
TAKE PART TO THE CREATION
OF THE PSYCHEDELIC ART CENTER
PROTESTS
The climax of psychedelia is a way of live linked to an era of political, spacial and sexual conquest. Young people queering for liberation were proposing a model of society based on well-being


FASHION, DESIGN & ADVERTIZING
From 1966, most jobs, brands and therefore common people have been influenced organic lettering, flowers and vividcoulours. Utopic commununities looking like autonomous eco-villages have spread across the world.


STUDENT ROOM IN 1967
Five minutes of virtual visit in augmented reality (360°) with physical objects of the video appearing without glasses.

---
TAKE PART TO A COLLECTIVE ARTWORK
An ephemeral and ever-renewed artwork. Co-creators use chalk to draw on a split blackboard to be found on several surfaces ; ground, walls and other forms and sculptures in relief. The most beautiful works will be photographed and shown later on.
---
Photo call
Projecting your own hanging up ! You can photograph yourself from your favourite pieceworks of the Collection on screen table. (« My Touch Gallery »).